What Is Trampoline?
Views:2 Author:Site Editor Publish Time: 2019-09-25 Origin:Site
Trampoline is a kind of equipment consisting of steel frame and tensioned fabric on the frame, usually connected to the frame by coil spring. Trampoline is used for jumping, and if it is large enough, it is used for rolling. It can be used for leisure and entertainment.
The trampoline playground is becoming more and more popular. Many investors are optimistic about the prospects of this project and have invested in the trampoline industry. In an increasingly stressful working environment, the indoor sports novel trampoline is more and more popular among young people. The multi-functional combination trampoline is in line with the pursuit of young people, and is only sought after by them.
And before that, we should realize the kinds of trampoline; they are leisure trampoline and competitive trampoline
Leisure trampoline is usually made of waterproof canvas and can be of various shapes and sizes. Trampoline is unlikely to be portable unless it is small. Entertainment trampoline can be found in children's playgrounds, adult fitness clubs, school gymnasiums and private homes.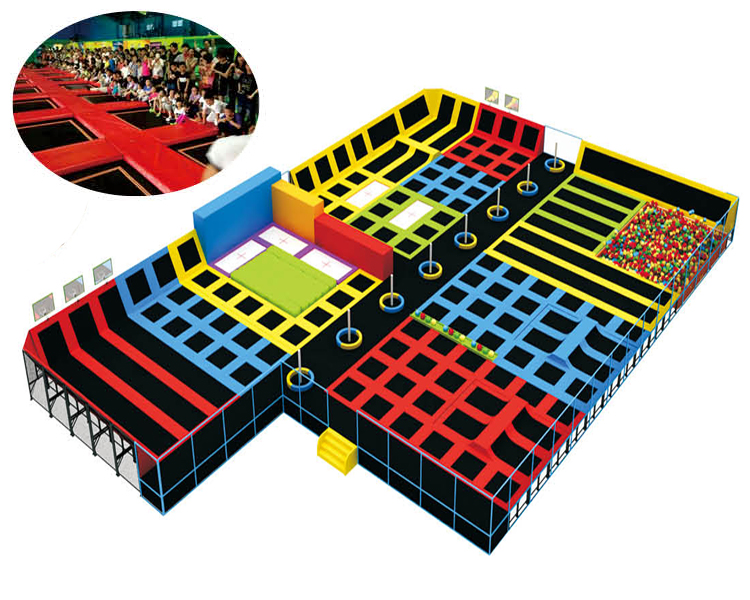 Competitive trampoline is much sturdier and made of specially developed fabrics. It is portable and easy to transport, which is essential for athletes competing around the world, and has a standardized shape and size. Competitive trampoline also uses more coil springs, which can produce higher bouncing and more complex stunts.